YAT
YAT is short for Youth At Trinity and we are the Youth Group of Trinity Lutheran Church in Wausau, WI.
We provide a consistent place for teenagers to hear the faith purely taught and confessed according to Holy Scripture and the Lutheran Confessions and where we will seek to prepare them for marriage, life away from home, life as an adult and how to die in the hope of the resurrection.
Jr. High YAT
Sr. High YAT
First Communion
Confirmation
Servant Event
Adult Leaders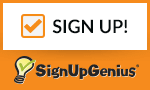 Fair Soda Sales worker sign up! We'll need lots of High School Student and Adult volunteers!